Our padding includes:
High impact foam
Heavy-duty 18.5 oz. vinyl
Mold, UV, and Fire Resistant
Wide variety of stock and custom colors
Don't forget the graphics!
Ball Fabrics offers high-quality indoor and outdoor vinyl padding designed to increase safety and enhance aesthetics for rails and posts, dugouts, backstops, and fencing. Combining our custom fabrication, which includes quality raw materials, and the expertise of our state-of-the-art in-house printing department, your padding can be the key element in unifying your facility through color and branding.
We will custom design your padding at each location to incorporate school colors, logos, team mottos, and advertising for a professional finished look that promotes your team or school, builds excitement, advertises your supporters, and increases school and team spirit. Quality, printed padding adds a true cohesive element to every part of your facility.
DIY Rail Padding offers an economical way to pad your fence top rail and and dugout rails. Offers a custom fit and look without a custom price Tubular foam in 6' lengths, sized to fit the fence top rail or dugout rail. 18 oz. UV treated vinyl cover in a variety of colors (with grommets). 
Colors: Green, Royal Blue, Yellow, White, Red, Black, Grey, and more.
Material: Foam wrapped in 18 oz Vinyl
Size: 4.5″ diameter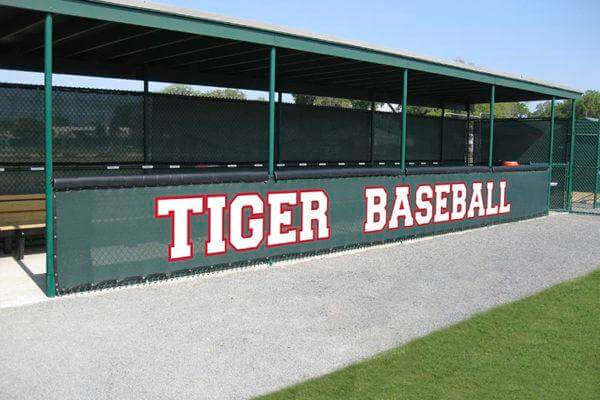 Get your DIY Rail Padding quote today